Welcome to the website of the
Fraternal Order of Police
Baldwin County Lodge 43
Fairhope, Alabama
Thanksgiving Dinner @ November 12th, 2020 Meeting
Dinner @ 6 pm
Meeting @ 7 pm
Only Active/Retired/Associate Members are permitted to attend.
This is for paid members only. All those attending are requested to bring a covered dish or dessert.
The Lodge will provide Turkey/Dressing/Rolls and several other items for the menu.
FOP Lodge 43 Members Honored
THE FOLLOWING ACTIVE RETIRED MEMBERS WERE PRESENTED A "LIFETIME MEMBERSHIP" INTO THE LODGE AT OUR OCTOBER 8TH, 2020 MEETING.  ALL ARE RETIRED ALABAMA STATE TROOPERS FROM THE STATE OF ALABAMA.
Reading from left to right their names are as follows:
TOMMY LOTT
STANLEY FANT
RON BANKSTON
PRESIDENT, LODGE 43 – JOHN McEWAN (Presented the awards)
JIM ANDERSON
TOMMY CHEATEAM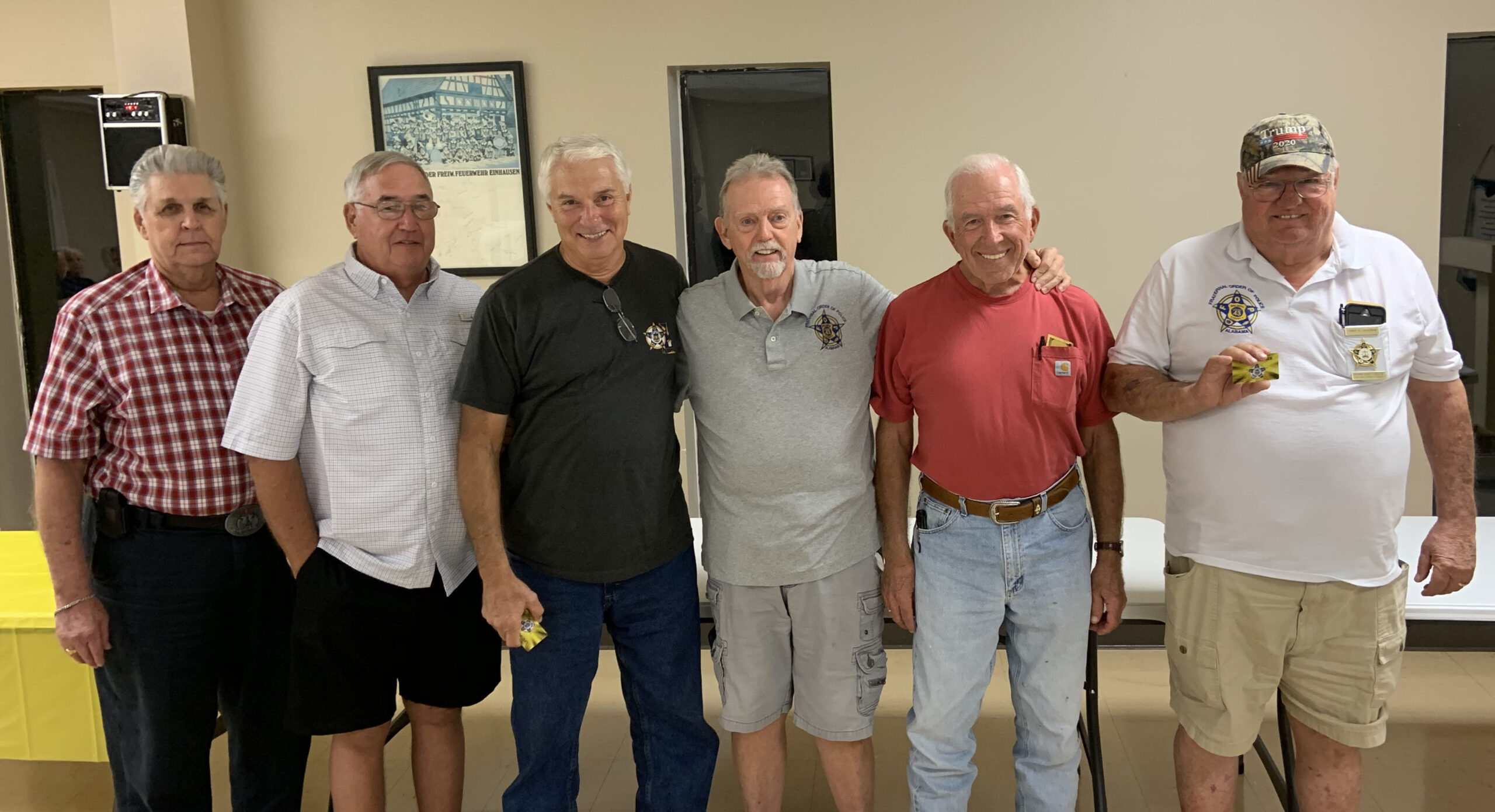 ---
LEOSA HR 218 REQUALS
The deadline to sign-up is Friday, October 16th, 2020
call:    David    828-342-3713
---
ATTENTION
If you have been an FOP Active Member for 25 years or 50 years contact Secretary Greg Duck 251-747-2782. The State FOP Lodge will be awarding these members with a special 25-year PIN and a 50-year RING. Please be diligent so no one who is eligible will be left out of these awards.
Thanks, John McEwan – President Lodge #43
---
Subject:   An Observation
I was astounded by what I saw on the National Media. I saw people destroying property, individuals beating a Police Officer to the ground, running a Police Officer over with a vehicle, torching Police vehicle's and watched as thugs were destroying and looting everything in their path. Police Officers have been shot, struck with bricks and have been pelted with everything from bottles to garbage.  I could not believe my eyes when I saw Police Chiefs kneeling following the direction of those who in the crowd could be the same individuals who could later become rioters. I saw a Chief make the statement that she would not send her Officers to stop rioters and looting because she didn't want them to get hurt and put their lives in danger. What has happened in this Country when the people who put on the Badge and swear an oath to protect the community and uphold the Constitution have been abandoned by their own Mayor's and Governor's. The Officers out on the street know what to do and know how to do it. There hands have been hand cuffed. It sickens me to know that decent citizens in these communities are standing by watching this take place and remain silent. Citizens need to stand up and support their Police. Citizens need to confront the community leaders and demand that they support Law Enforcement. If this is not confronted, only one thing will happen, total chaos. If the Police can't control this Lawlessness then the citizens will be forced to protect their businesses and way of life. We are a strong powerful God fearing Nation not a Banana Republic. Remember this, most if not all Law Enforcement Agencies cannot find enough men and women to step up to be a COP. Can you imagine young people today seeing what's going on and say "WOW " I want to be a Police Officer. I will leave you with this thought, Can we survive as a Nation without that Thin Blue Line.
John McEwan
President FOP lodge # 43
---
Any members needing assistance during this virus situation please feel free to contact the board and we will do whatever we can to assist.
John President FOP Lodge #43
---
The Cook Out was a great success. The weather was wonderful, everything all came together to make for an outstanding day. The silent auction for C.O.P.S helped raise money so family members of Officers Killed in the line of duty can get financial assistance for memorial travel to Washington DC. I would like to thank everyone who worked so diligently to make the day GREAT!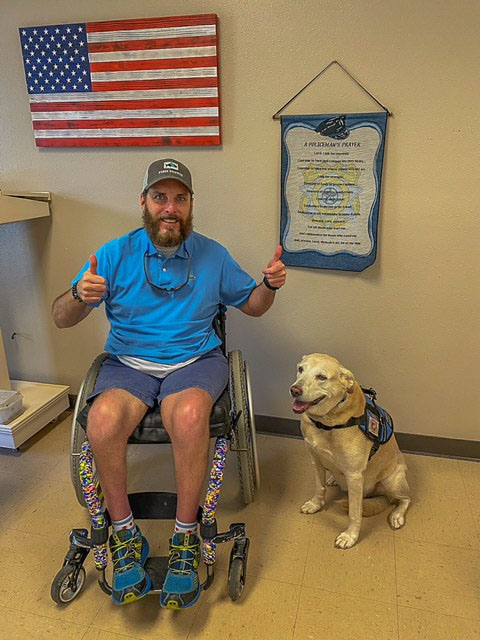 Thanks!     John
---
The gate key pads have been upgraded for the entry fence. The new pads are water proof and electronics  have been upgraded. The gate code has not changed but, you must enter the # sign after entering the code…
---
NEW ASSOCIATE APPLICATIONS WILL BE ACCEPTED FOR 2020
OUR ASSOCIATE ROSTER SHOULD HAVE SOME OPENINGS.
ASSOCIATE ADVOCATE
---
SPECIAL POSTING
The Lodge has installed a new entrance gate leading into the Lodge property.  There are three Key Pads which will open the newly installed gate.  The following are the instructions for entering and exiting the Lodge property.
(1)  KEY PAD ON LEFT WHEN ENTERING:  USE YOUR ASSIGNED CODE ON BACK OF YOUR CARD TO OPEN THE GATE. DO NOT ENTER UNTIL GATE IS COMPLETELY OPEN AND STOPPED (THE ELECTRIC EYE WILL STOP THE GATE BEFORE IT IS COMPLETELY OPEN).  THE GATE WILL REMAIN OPEN UNTIL YOU EXIT THE LODGE PROPERTY.
(2)  KEY PAD ON LEFT WHEN EXITING:  USE YOUR ASSIGNED CODE ON BACK OF YOUR CARD TO CLOSE THE GATE AFTER EXITING THE LODGE PROPERTY.
(3)  KEY PAD FOR EMERGENCY:  LOCATED ON POWER POLE INSIDE LODGE PROPERTY INSIDE NEAR MAIN CONTROL PANEL.  THIS IS TO BE USED IF GATE IS ACCIDENTALLY CLOSED BY MEMBERS LEAVING WHILE MEMBERS ARE STILL USING RANGE ON LODGE PROPERTY.
NOTE:  ALL THREE KEY PADS WILL OPEN OR CLOSE THE GATE.
PROBLEMS:
John McEwan @ (805) 296-9302
OR
WALTER CROOK @ 943-7272 / 609-9721
---
SPECIAL NOTICE TO
ALL SHOOTERS USING THE RANGE
WHEN SHOOTING @ THE RANGE, PLEASE PICK UP ALL BRASS.  IF YOU DO NOT WANT YOUR BRASS, PLEASE DEPOSIT IT IN THE CANS LOCATED UNDER THE SHED.  THERE WILL BE NO SOLICITATION FROM OTHER MEMBERS WHILE ON THE RANGE TO REQUEST YOUR BRASS OR PICK UP FOR THEIR PERSONAL USE.  THE LODGE RECYCLES THE USED BRASS TO HELP MAINTAIN THE COST FOR MAINTENANCE.  PLEASE HELP US IN SEEING THAT THIS REQUEST IS FOLLOWED.
EXEC BOARD
---
:: Contact Information ::
Baldwin County FOP Lodge 43
P.O. Box 301
Foley, Al 36536
 All "Active" Members should contact Secretary Greg Duck for any issues with their membership.
Greg Duck
Phone: (251) 747-2782
29620 Josephine Dr.
Elberta, AL 36530
All "Associate" Members should contact Associate Advocate Walter Crook for any issues with their membership.
Walter Crook
Phone: (251) 943-7272
P.O. Box 41
Foley, AL 36536
EXECUTIVE BOARD
---

(You must have Apple's Quicktime installed to view this movie. Go here to get it!)
(You must have Adobe's PDF Reader installed to view Documents. Go here to get it!)
When DOWNLOADING the PDF Reader software, make sure to UN-CLICK the "Optional offer:" and then click the INSTALL button and follow the instructions provided.