Welcome to the website of the
Fraternal Order of Police
Baldwin County Lodge 43
Fairhope, Alabama
September 9th, 2021
Meeting @ 6 pm
Dinner @ 7 pm
Electronic gate got hit by lightning!
The gate will open…
use the Lock Combination for the new padlock located on the gate.
FOP Lodge 43 Members Honored
THE FOLLOWING ACTIVE RETIRED MEMBERS WERE PRESENTED A "LIFETIME MEMBERSHIP" INTO THE LODGE AT OUR OCTOBER 8TH, 2020 MEETING.  ALL ARE RETIRED ALABAMA STATE TROOPERS FROM THE STATE OF ALABAMA.
Reading from left to right their names are as follows:
TOMMY LOTT
STANLEY FANT
RON BANKSTON
PRESIDENT, LODGE 43 – JOHN McEWAN (Presented the awards)
JIM ANDERSON
TOMMY CHEATEAM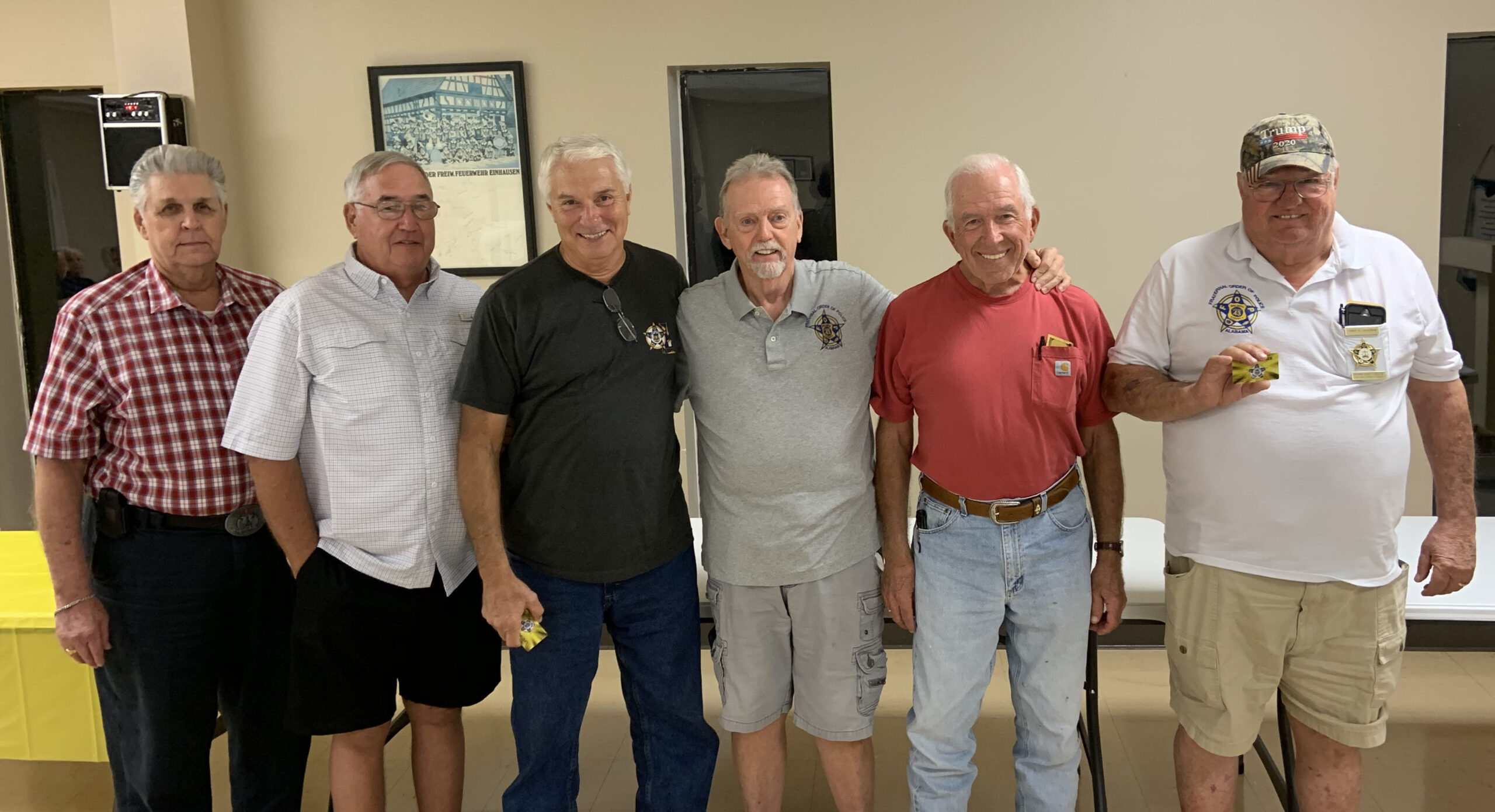 ---
ATTENTION
If you have been an FOP Active Member for 25 years or 50 years contact Secretary Greg Duck 251-747-2782. The State FOP Lodge will be awarding these members with a special 25-year PIN and a 50-year RING. Please be diligent so no one who is eligible will be left out of these awards.
Thanks, John McEwan – President Lodge #43
---
Any members needing assistance during this virus situation please feel free to contact the board and we will do whatever we can to assist.
John President FOP Lodge #43
---
SPECIAL NOTICE TO
ALL SHOOTERS USING THE RANGE
WHEN SHOOTING @ THE RANGE, PLEASE PICK UP ALL BRASS.  IF YOU DO NOT WANT YOUR BRASS, PLEASE DEPOSIT IT IN THE CANS LOCATED UNDER THE SHED.  THERE WILL BE NO SOLICITATION FROM OTHER MEMBERS WHILE ON THE RANGE TO REQUEST YOUR BRASS OR PICK UP FOR THEIR PERSONAL USE.  THE LODGE RECYCLES THE USED BRASS TO HELP MAINTAIN THE COST FOR MAINTENANCE.  PLEASE HELP US IN SEEING THAT THIS REQUEST IS FOLLOWED.
EXEC BOARD
---
:: Contact Information ::
Baldwin County FOP Lodge 43
P.O. Box 301
Foley, Al 36536
 All "Active" Members should contact Secretary Greg Duck for any issues with their membership.
Greg Duck
Phone: (251) 747-2782
29620 Josephine Dr.
Elberta, AL 36530
All "Associate" Members should contact Associate Advocate Walter Crook for any issues with their membership.
Walter Crook
Phone: (251) 943-7272
P.O. Box 41
Foley, AL 36536
EXECUTIVE BOARD
---

(You must have Apple's Quicktime installed to view this movie. Go here to get it!)
(You must have Adobe's PDF Reader installed to view Documents. Go here to get it!)
When DOWNLOADING the PDF Reader software, make sure to UN-CLICK the "Optional offer:" and then click the INSTALL button and follow the instructions provided.